Susan Krauss Whitbourne, Ph.D. at the University of Massachusetts Amherst whose research focuses on personality and cognitive processes throughout adulthood, wrote the whole article for Psychology Today explaining that vacations aren't just a luxury, they're important for your health.
How do you picture your perfect vacation? Laying on the beach in the Bahamas? Partying in Barcelona? Finding inner peace in Bali? Or just exploring all the cool places in your native town? No matter the scenario, the golden rule remains the same: While on holiday, the last thing you want to worry about is money.
A good vacation needs some preparation. In this article, we're sharing tips for saving for a holiday–to ensure that it won't cause any trouble in your personal or family budget.
How much should you save for your vacation?
According to a CIT Bank research, about 25 percent of Americans save 5 to 10  percent of their monthly income for vacations. One-third set aside less than 5  percent of their income for vacations, and more than a third don't save at all. But the "right" answer doesn't exist because everything depends on your holiday plan– whether you go on a solo holiday or with a partner/family, take a domestic or international flight, and many other factors, like the generation you belong to. VRBO survey reports that Baby boomers' average cost of a vacation is $7800 while Gen Z and Millennials spend appr. $4500.
#1 Decide on your target savings goal
It's not about guessing and pulling the random number in the air. You can reach the travel agent so they book flights, hotels, and activities for you. In this case, your vacation budget is pretty much determined. But if you carry everything by yourself, you need to do plenty of research on Google, Reddit, Airbnb, Booking, and TripAdvisor and make calculations in advance. What to pay attention to?
Transportation
Accommodation
Food
Entertainment
Insurance
To simplify the task, consider looking at your spendings during the previous vacation. How much did you spend on food? Did you go to museums or concerts there? Those facts will help a lot on this stage.
#2 Then plan over it
One other rule seems to hold true: The money goes fast. And sometimes people go crazy on holiday. According to a 2017 survey by Learnvest, almost 75% of Americans failed at sticking to the budget and fell into debt of more than $1,100 after returning from a holiday. It may happen because of currency differences or FOMO. Have you seen the latest TikTok trend with videos that start with the phrase "I'll earn more money later for sure, but…" and then something like "I'll never be that young again" or "we'll never swim in the Como lake with our two little boys" etc. The good news is that you don't have to choose if you plan ahead correctly.
Consider adding 10-15 percent on your travel budget to make sure you don't run out of cash before your holiday ends. Because nothing ruins the pleasure of a holiday like knowing that you have to pay it off when you get back.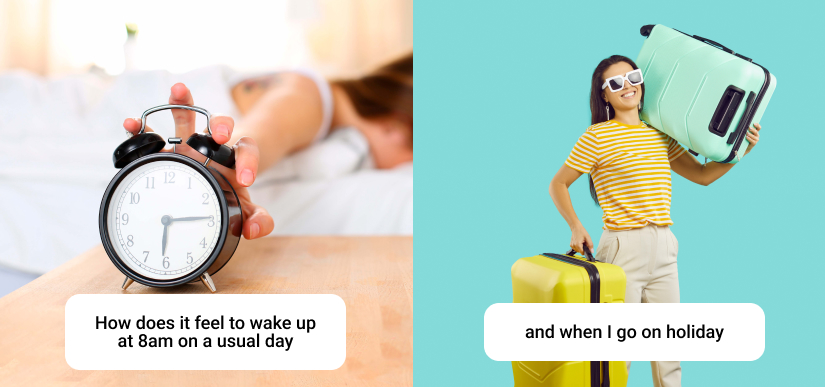 #3 Break down the amount by small chunks
Spending $5000 on a yearly vacation may look terrifying a bit until you realize it comes out to just $11 per day. No matter your goal, breaking it into smaller parts makes it more attainable. If the number still doesn't look realistic, come back to step #1.
But don't downgrade the experience. It's better to choose quality over quantity. For example, if you wanted to go for 10 days, take 7 instead but always in a good location and with great attractions.
#4 Start budgeting
Spreadsheets? No, thanks. "Budgeting should be easy so you don't give up"—this is the core idea behind the Finmatex app. Instead of looking for Excel templates and dealing with formulas, columns and sheets, Finmatex offers easy-to-use interface for savings. Here's how to start budgeting in 5 easy steps:
Download the Finmatex app. It's available on Android and iOS, and we have a 1-week free trial for you to make the most of it. 
Connect your banking account.
Go to navigation bar → Edit
Goals → +
Name it like you want to.
You're all set! Sticking to your budget takes discipline, for sure. But it's definitely worth doing to be able to disconnect and enjoy your vacation. Bon voyage!